Johnsondale is located in the beautiful Sequoia National Forest 26 miles north of Kernville, just above the Johnsondale Bridge where South Creek joins the north fork of the Kern River. South Creek flows east through the R-Ranch and then turns south where it flows into the Kern River.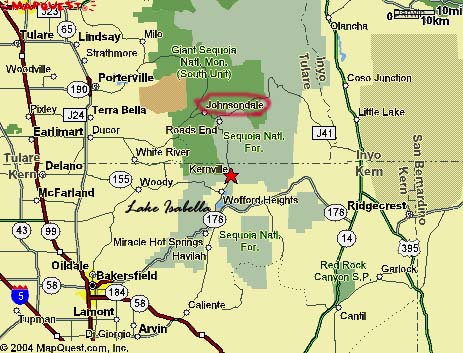 From the east, the drive to the Ranch via Highway 178 west of Ridgecrest is a beautiful, scenic route through a magnificent Joshua Tree area, crossing Walker Pass and continuing into the Kern River Valley through Weldon. The Sierra Way turnoff to the north follows the Kern River, North Fork, through Kernville up to the R-Ranch. Entering Tulare County just north of Kernville, Sierra Way becomes Mountain Road 99 (Mtn99).

From the west, Highway 178 from Bakersfield follows the Lower Kern River into the town of Lake Isabella, where Highway 155 takes you north through Wofford Heights into Kernville.

Another beautiful scenic route is from the south via the Caliente-Bodfish Road from Highway 58 through the Tehachapi mountains, the towns of Caliente, Havilah, and Bodfish, finally connecting to Highways 178 and 155 in Lake Isabella.

Originally a sawmill, the R-Ranch is now a wonderful resort and vacation community open year-round, reserved for use by the owners.